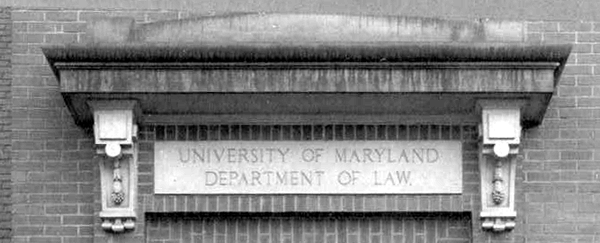 A Bulwark of Solidarity: Francis King Carey, 1858-1944
---
Biography
Introduction
At his death in 1944 Francis King Carey, Class of 1880, was lauded as one of the most influential Marylanders in the state and quite possibly the nation. He had been over the course of his life a founding member of two of the nation's most successful and innovative law firms (first Steele, Semmes and Carey later to be known as Semmes, Bowen and Semmes and second Carey, Piper and Hall which eventually would become Piper Rudnick and later would merge into DLA Piper); a committed public servant who, while often urged to run for elected office, felt that he could accomplish more outside of elected politics; and an inventive businessman who almost single-handedly helped to create one of the largest agricultural industries in America. He was according to many, well respected and considered a bulwark of solidarity in both his legal and his business dealings.
Early life
The son of James Carey, a Baltimore merchant and the first President of the Provident Savings Bank, Francis King Carey was born in July 1858 at The Cedars the family estate. He attended Haverford College where he earned both an undergraduate and an advanced degree. In 1880 he graduated - ninth in his class - from the University of Maryland School of Law and quickly made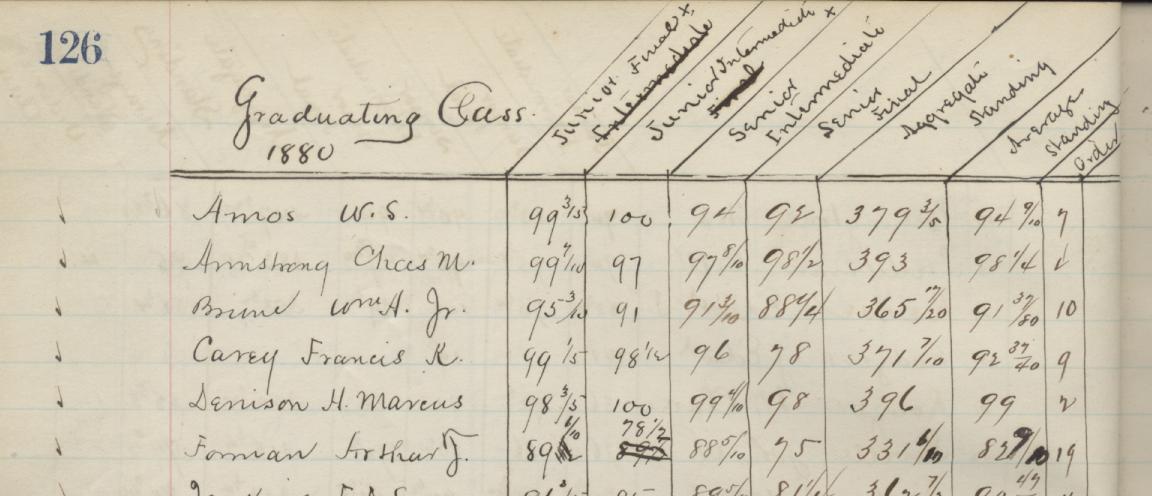 his mark in the community by authoring, along with his classmate David Stewart, what became for a time the standard text on domestic relations: Stewart and Carey A Digest of the Law of Husband and Wife, As Established in Maryland (1881). Just four years later he joined with his older brother James Carey (Class of 1875) to write the popular Carey's Forms and Precedents (1885). Francis King Carey maintained a successful local and national practice and appeared before both the Maryland Court of Appeals and the U.S. Supreme Court several times.
Business career
Like many a modern lawyer Francis King Carey operated in both the business world and the legal community and it was in the former where he achieved some of this greatest successes. He served as President of the Charleston Consolidated Railway, Gas and Electronic and as President and then later as Chairman of the Board of the National Sugar Manufacturing Company. In this latter position he was instrumental in saving the sugar beet industry from collapse. He served in this position until 1910. As a business leader he was frequently invited to testify before Congress on issues related to corporate law and tariffs. Carey's influence in the Maryland and national business community led to his appointment to the Mayors Executive Municipal Committee after the great Baltimore Fire of 1904 and he was able to use his influence to persuade the Baltimore business community to back many of the needed but costly infrastructure reforms.
As a result of his professional business experience and legal acumen Carey was also appointed to the Maryland Tax Code Revision Committee (1922-1924) and to the Baltimore Bar Association's Committee for Corporate Law (1908, 1912) where he helped to write the state's first Corporation Law in 1912.
Progressive Politics
Francis King Carey was a committed public servant who, it was said, possessed a deep sense of Noblesse oblige and believed it was his duty to work for the betterment of all. He was by all accounts a committed progressive but did not lack for humor as it pertained to progressive causes; on prohibition he famously declared himself both a conservative wet and a liberal dry. A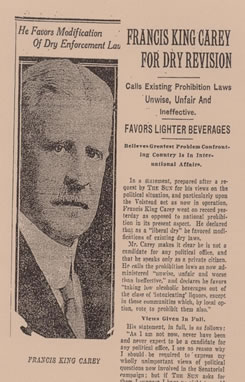 lifelong Democrat Carey nevertheless lent his influence to Republicans that he believed shared his progressive views supporting both William Broening for Mayor and Herbert Hoover for President.
Carey served for several years as the Editor of the Civil Service Reformer a journal devoted to progressive and good government ideals. Over a hundred years before it became popular he argued for compulsory health insurance for all Marylanders as a member of the Federated Charities Committee on Health Insurance. Because of his known commitment to caring for others coupled with his business skills and managerial experience Carey was asked to help organize and serve on both the Hoover Food Conservation Campaign and the Red Cross War Fund Campaign in Maryland during W.W. I. Carey was also an early supporter of compulsory health coverage and in 1907 gave a talk on the subject before the Maryland Federated Charities Committee on Health Insurance.
A believer in the idea of American Exceptionalism Carey was active in many national and local political organizations including the Executive Committee of the League of Nations, the Maryland Defend America by Aiding the Allies Committee, and the Maryland Branch of the Fight for Freedom Commission.
Personal Ethics
With so many legal and financial successes biographers of Carey often point to his strong personal ethics about right and wrong as the central feature of this multi-talented Maryland law school graduate. In a 1978 analysis of his role in the sugar beet industry author Dena Markoff relates that when inflation rose dramatically at the start of W.W. I the workers at the National Sugar Manufacturing Company (owned and managed by Carey) went on strike for higher wages. While Carey quickly granted the raise he dropped everything in Baltimore and traveled to Colorado and the Sugar Mill to express personally his disappointment with the workers for striking to gain a pay raise instead of asking him directly. Carey so impressed the workforce with his commitment to their well-being that there was never another strike during his tenure as owner. At the height of the Great Depression in the 1930s Carey arranged to support many of his workers and their families during the hard times and when sugar demand all but dropped off he insisted that the factory continue to produce and that the workers be paid their full wages so as to avoid an adverse affect on the local community.
This sense of obligation to others, particularly those less fortunate then himself was a hallmark of his life and informed his personal and his political activities. Carey's commitment to law and justice makes him an ideal model for the newly re-named University of Maryland Francis King Carey School of Law. [Text. Bill Sleeman, 2011].

---
Francis King Carey - Professional Time Line
Click the image to begin the slideshow: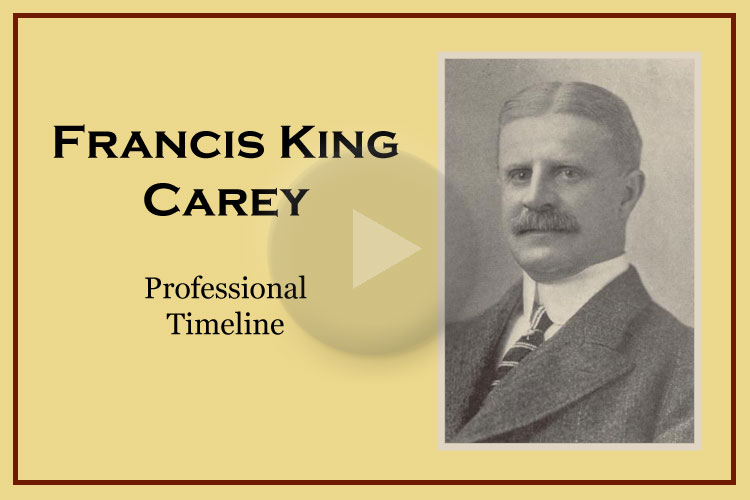 ---
Additional Works by Francis King Carey
The Rights of Married Women. by Francis King Carey. [Baltimore: 1880]. University of Michigan: Humanities Text Initiative.
"The Disposition of the Body after Death," The American Law Review, Vol. 19 (March/April, 1885) [Access via HeinOnline].
Brief on behalf of the American Beet Sugar Association : opposing the reduction of the duty on raw sugar exported from the island of Cuba to the United States. by Francis King Carey; United States. Baltimore: Murphy, 1902.
"Professional Men and Public Enterprise," Chicago Legal News, Vol. 38, p. 377 (1906)[Access via HeinOnline].
Compulsory health insurance for Maryland: a letter to members of the City Club of Baltimore. by Francis King Carey; Federated Charities (Baltimore, Md.). Committee on Health Insurance. [Baltimore, Md. : Committee on Health Insurance of the Federated Charities of Baltimore], 1917. Harvard University Open Collections Program.
Preliminary report of the Tax Revision Commission to His Excellency, Albert C. Ritchie, governor of Maryland. April 30, 1923. by Francis King Carey; Maryland. Tax Revision Commission. [Baltimore. 1923].
Final report of the Tax revision commission to His Excellency, Albert C. Ritchie, governor of Maryland. November 30, 1923. by Francis King Carey; Maryland. Tax Revision Commission. [Baltimore. 1923].
French spoliation. U.S. Court of claims. Francis King Carey vs. The United States. Schooner "Two Brothers." Francis King Carey vs. The United States. Schooner "Little Pegg" Notes of arguments, opening and in reply of Wm. E. Earle. by Francis King Carey; William E Earle. [Washington, DC. United States Court of Claims. 192?].
Legal case: Cushing v. U.S., U.S. Court of Claims 22 Ct. Cl. 1 (1886) (French Spoliation Claim) [Access via Westlaw].
Legal case: City of Baltimore v. Baltimore Trust & Guarantee Company, 166 U.S. 673 (1897) [Access via Westlaw].
Legal case: Northrop v. Mercantile Trust & Deposit Company of Baltimore, 157 F. 497 (1907) [Access via Westlaw].
Legal case: U.S. v. Ellicott, 223 U.S. 524 (1912) [Access via Westlaw].
Legal case: Stewart v. May, 119 Md. 10 (1912) (along with his son Francis J. Carey) [Access via Westlaw].