Adjunct Faculty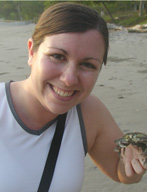 Sarah Widman is the Director of Policy and Planning for the Maryland Department of Natural Resources Fisheries Service, where she oversees the fishing license penalty system and the writing and research of fisheries regulations, legislation, habitat/ecosystem information and fishery management plans. She received her J.D. from the University of Baltimore School of Law in 2004. Prior to law school, Sarah worked for the Geothermal Energy Association. She holds a M.A. in Media and Public Affairs from the George Washington University and a B.A. in Political Science from American University. Sarah serves as a member of the Maryland Invasive Species Council and Maryland Department of Natural Resources Invasive Species Matrix Team. She also staffs the Maryland Sport and Tidal Fisheries Advisory Commissions' Penalty Workgroup and has previously staffed Maryland's Working Waterfront Commission.
She co-authored "An Assessment of a Bait Industry and Angler Behavior as a Vector of Invasive Species" Biological Invasions, Vol. 14:7, 1496-1481 (2012). And recently co-authored "Finished with Finning: A Look at the Movement in the U.S. to Stop Global Shark Finning Practices" (2012) (publication pending), which she will present at the BIT's 2nd Annual World Congress of Biodiversity, Ecology and Environment in Nanjing, China in 2013.
Sarah authored, "Fishing for Law: How Changes in Maryland Fisheries Management Have Impacted Judicial Review of Maryland Fisheries Law," which she presented at the American Fisheries Society Annual Meeting San Francisco in 2007. She also authored the Maryland Environmental Legislative Update for 2004 for the University of Baltimore Journal of Environmental Law Vol. 11:2 (Spring 2004).