Communications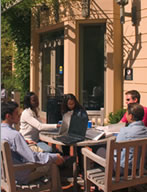 Communications
The Communications Department advances the mission of the Maryland Carey School of Law by disseminating information about and promoting our programs and accomplishments through the media, through our own website, and through electronic and print publications, both within and outside of the school. Communications also works with the campus and the University System of Maryland to maintain relationships with state and local government offices, foundations, and community organizations and within the region. The Office supports the activities and goals of the Dean, coordinating with other administrative departments, including Admissions, Development & Alumni Affairs, and the various academic programs.
Administration & Staff
Susan L. Krinsky
Associate Dean for Student Affairs and Communications

Yorghos Carabas
Senior Communications Specialist

Tierra Collins
Senior Marketing Specialist

Heather McKlveen
Administrative Assistant
To submit a project request please use the following form: https://umbforms.wufoo.com/forms/maryland-carey-law-communications-request-form/
Please be as thorough as possible when describing the scope of work regarding your project. Remember to submit requests as early as possible as large projects require time and planning as well as a number of conversations depending on how complex the job is.